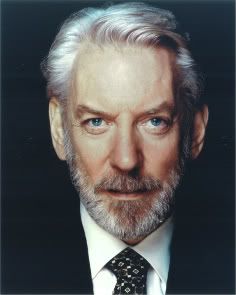 DONALD SUTHERLAND CAST AS PRESIDENT SNOW IN LIONSGATE'S THE HUNGER GAMES
LOS ANGELES, CA, May 31, 2011- Lionsgate® and the filmmakers of THE HUNGER GAMES are pleased to announce that Donald Sutherland has been cast in the role of President Snow in the much anticipated film adaptation of Suzanne Collins' worldwide smash hit novel.
SUTHERLAND, star of such iconic films as M*A*S*H, Ordinary People , Klute and Kelly's Heroes, will next be seen in this summer's comedy, Horrible Bosses and recently starred in The Mechanic with Jason Statham and Ben Foster, The Eagle with Channing Tatum and the highly-successful long form adaptation of Ken Follett's The Pillars of the Earth.
About The Role
President Snow has been the autocratic ruler of Panem and its contained districts for some 25 years at the outset of the story. He is cruel and ruthless in his intimidation and control tactics.
source
lionsgatepublicity